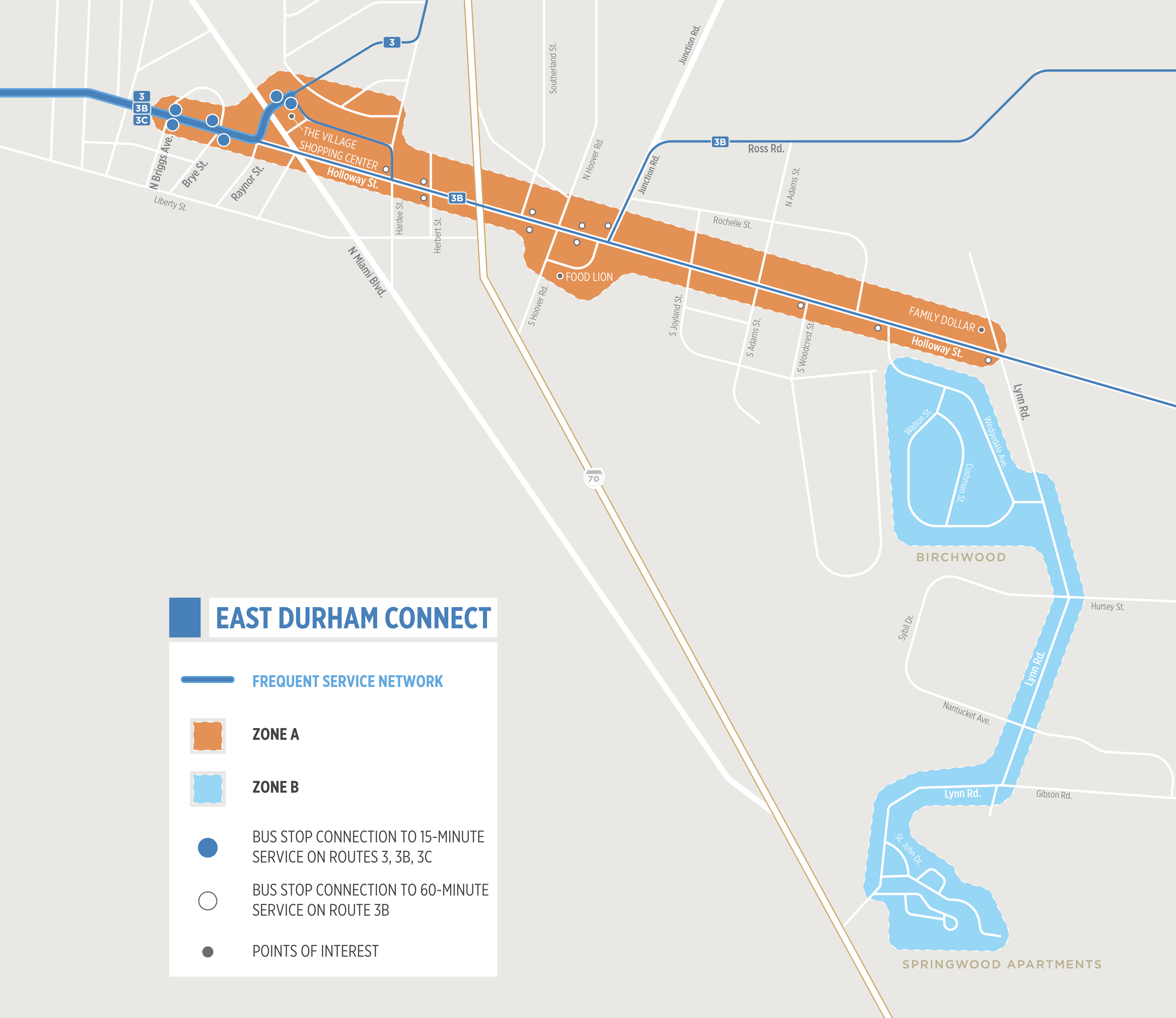 After successful testing that began Monday, the new East Durham Connect pilot program is ready for residents to start using Saturday.
The program allows residents in a few neighborhoods in East Durham to take a Lyft ride between their homes and bus stops or shopping centers nearby. Customers can use the Lyft ride to connect to the GoDurham bus service at bus stops near the Village Shopping Center, where there is a bus arriving or departing every 15 minutes on Routes 3, 3B and 3C.
The East Durham Connect pilot program replaces the fixed-route service that GoDurham Route 3C provided between NC 98 and US 70 on Wedgedale Avenue and Ivywood Lane. The change is part of a large package of bus service improvements that GoDurham instituted last month  Find out more here.
With East Durham Connect, customers will use their smart phones and a code to take a Lyft ride between 6 a.m. and 7 p.m. Monday through Saturday from the Birchwood community and Springwood Park Apartments to a zone along Holloway Street.
The pilot East Durham Connect program will run through June 30, 2020, and may be extended into 2021.
Getting started
Beginning Saturday, customers with smartphones will be able to book a Lyft trip by first downloading the Lyft app and entering the promo codes.
Using the Lyft app:
Sign in to your existing Lyft account or download and create a Lyft account.
Tap the three horizontal lines in the upper left corner (commonly referred to as the hamburger menu) and click "Promos."
Enter two promo codes: GODURHAM1 and GODURHAM2. The subsidy, up to $25, will be applied to any eligible ride. You will need to enter these codes only once and not each time you request a ride.
Passengers without smartphones or those who need a wheelchair accessible vehicle can call 919-485-RIDE (7433) to schedule a ride. (NOTE: Riders' personal information may be subject to applicable public disclosure laws and subsequently be made public following requests for such information.)
Find more information here. Questions? Call 919-485-7433 for help.